Oh, anime lovers, do I have just the announcement for you! Netflix's upcoming anime series, Record of Ragnarok, is soon coming to the streaming giant. The much-anticipated anime will be making its debut in June, and here's everything you need to know about the anime––plot, cast, trailer, and the official release date.
What is Record of Ragnarok all about?
Record of Ragnarok is an upcoming Netflix Original Japanese anime series lifted from Shinya Umemura and Takumi Fukui's manga, Shūmatsu no Warukyūre.
The series will revolve around the gods vs. the humans. "Ningen," as the Japanese would say and an all-too-familiar word for anime lovers. The gods, inherently, have the fate of humanity in their hands. Humans, however, have stood up to prove their worth before the gods. In what's considered to be a battle of Ragnarok, 13 humans from all of mankind's history are brought before the gods as representatives to fight against them in a duel to death. Humanity requires seven wins to win and to aid them in fighting the gods, they're given a "Valkyrie," a weapon powerful enough to damage a god.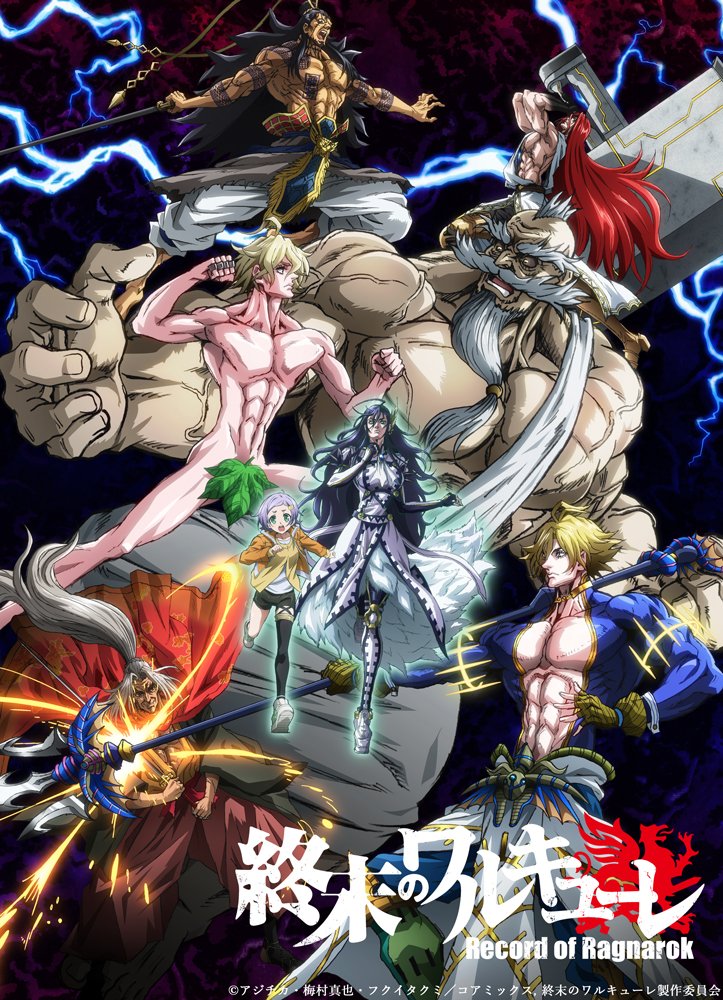 Who are attached to Record of Ragnarok?
Masao Ookubo, who previously worked on Fullmetal Alchemist: Brotherhood (a personal bias, I must say),  alongside Saint Seiya Omega will direct the series. That Time I got Reincarnated as a Slime and Black Clover's very own Kazuyuki Fudeyasu will spearhead series composition. Slam Dunk's Masaki Sato, on the other hand, is controlling character design while Yasuharu Takanashi composes the soundtrack. This, already, is a team of its own.
Previously announced, the voice cast includes:
Miyuki Sawashiro (Hunter x Hunter, Sword Art Online) as the Valkyrie Brunhilde
Tomoyo Kurosawa (Astra Lost in Space) as the youngest Valkyrie sister Göll
Tomokazu Seki (Fate/stay night, Fullmetal Panic!) as Lu Bu
Hikaru Midorikawa (Code Geass, Fate/Zero) as the god Thor
Wataru Takagi (Dorohedoro) as the god Zeus
Sōma Saitō (Akame ga Kill!) as the mortal Adam
Kazuhiro Yamaji (Attack on Titan) as swordsman Kojiro Sasaki
Tatsuhisa Suzuki (Free!, The Seven Deadly Sins) as the god Shiva
Takahiro Sakurai (Code Geass, Mob Psycho 100) as the god Poseidon.
The new additions to the voice cast include:
Aya Kawakami (My Hero Academia) as Randgrid, one of the 13 Valkyrie sisters who can transform into a spear to aid Lu Bu
Rina Kawaguchi as Reginleif, another Valkyrie who transforms into knucklebusters for Adam
Yu Kobayashi (Attack on Titan, Dorohedoro) as Hrist, a Valkyrie who transforms into a sword for Kojiro Sasaki.
Coincidentally, some of the cast members have been part of the Fate series––arguably one of the best animes to ever produce fight scenes. Will the fights between the gods and the humans in Record of Ragnarok be on par with the Fate series? We'll have to wait and see.
When is the release date of Record of Ragnarok on Netflix?
Oh, baby! You'll see the gods vs. the humans bout on Netflix on the 17th of June, 2021!
Does Record of Ragnarok have a trailer?
A Netflix anime with a plot as epic as this deserves a trailer. Watch it below but be careful, Adam's only clothing is a leaf. I don't even know if that's poor fashion sense or lack of resources.